New Books for July 2020
NOUGHTS AND CROSSES by Malorie Blackman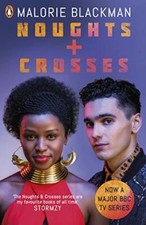 Sephy is a Cross: she lives a life of privilege and power. But she's lonely, and burns with injustice at the world she sees around her. Callum is a nought: he's considered to be less than nothing – a blanker, there to serve Crosses – but he dreams of a better life. They've been friends since they were children, and they both know that's as far as it can ever go. Noughts and Crosses are fated to be bitter enemies – love is out of the question. Then – in spite of a world that is fiercely against them – these star-crossed lovers choose each other. But this is love story that will lead both of them into terrible danger . . . and which will have shocking repercussions for generations to come.
AMELIA FANG AND THE LOST YETI TREASURES by Laura Ellen Anderson
When Amelia and her friends are invited to Florence's grandmother 350th birthday party, they are very excited! Grand-yeti Clemence lives in the Yeti Pits, a maze of candle-lit tunnels and caves carved into Yeti Mountain. But not long after arriving, the precious glittery treasures of the ancient yetis start to go missing. And when Tangine goes missing too he becomes the prime suspect! Not only that but the tunnels of Yeti Mountain have started to collapse on themselves and it looks like Florence and her family will have to move far away. It's looking like the gang might never see each other again!
DRAGON DETECTIVES: CATNAPPED by Gareth Jones and Scott Brown
When detective Dirk Dilly gets a call from Holly, a young girl whose pet cat has gone
missing, the dragon ends up with not only a new case to solve but also a self-appointed partner-in-solving-crime. And it turns out that Holly's cat is just the beginning! As the pair hunt for clues, Dirk spots other dragons flying over the city – and not the good kind. Dirk has a hunch they might just be involved, but will he and Holly be able prevent further cat-astrophe before it's too late?
LAURA NORDER: SHERIFF OF BUTTS CANYON by Guy Bass and Steve May
Laura Norder lives her life by the Golden Rules and so should everybody else. But being Sheriff of Butts Canyon at the age of ten is a big job to handle, and when a no-good rule-breaking bandit causes chaos in the town, enough is enough! It's time for Laura to step up to the plate and catch the masked mischief-maker before he breaks any more of her rules! Particularly suitable for struggling, reluctant or dyslexic readers aged 8+
AGENT WEASEL AND THE FIENDISH FOX GANG by Nick East
Strange things are happening in the United Woodlands. Rabbit warrens have been peppered with itching powder. Squirrels' nuts are missing. Even Badger's bottom h
as been shaved! All the clues point to the Fiendish Fox Gang. It's time to call Agent Weasel, woodland super-spy. But before they can even finish their stakeout picnic, Weasel and his trusty dormouse friend Doorkins are captured by the villainous Vixen von Fluff. Can our heroes escape? Can peace be made in the United Woodlands? Will they get afternoon tea and biscuits? Does Agent Weasel have a clue what's going on?
AL'S AWESOME SCIENCE: BUSY BODIES by Jane Clarke and James Brown
Age range 6 to 10Al is researching the effects on his body of travelling in a time machine. Trouble is it's hard to experiment without any mess, especially when your neighbour's cat Precious is in the same house with Al's naughty dog Einstein.Experiments about digestion, nutrition, facts about the body, balance and space travel.
BAD CAT by Nicola O'Byrne
Fluffykins is a lovely cat. He wouldn't do anything naughty . . . would he? But wha
t's this? He's knocked over the flowers, tangled up all the knitting, bent the blinds, trodden on the laptop AND scratched the sofa . . . and he won't say sorry. What a bad cat! Whatever will Fluffykins do next? This witty and perfectly-paced story by award-winning author-illustrator Nicola O'Byrne revels in all the mayhem of living with a feline friend.
MR BROWNS BAD DAY by Lou Peacock and Alison Friend
Mr Brown is a Very Important Tiger who works in a Very Important Office. He carries
a Very Important Briefcase and does Very Important Things all day long. But when his Very Important Briefcase goes missing, Mr Brown's world is turned upside down. He goes on a VERY wild chase all over town, but will he ever get his briefcase back? And what about the Very Important Things inside?
WILL YOU HELP DOUG FIND HIS DOG
Help Doug find his dog by patting, tickling, and calling to the correct dogs based on Doug's clues! As the reader selects dogs, the pool narrows until a surprise ending reveals Doug's dog―and why he went missing. Featuring hilarious illustrations of funny dogs galore, this text is perfect for collaborative story time with beginning and reluctant readers.
SUPER HAPPY MAGIC FOREST AND THE HUMONGOUS  FUNGUS by Matty Long
A Super Happy Magic Forest chapter book packed with illustrations and plenty of humour-this is the perfect read for fans of Dog Man and Captain Underpants (6+).
The Super Happy Magic Forest is the friendliest, most frolic-filled place in all the world, but very occasionally some evil-doer likes to come along and disturb the peace. That's when our five brave heroes to step up to save the day-there's Blossom the unicorn, Tinkle the pixie, Herbert the gnome, Hoofius the faun, and a plucky little mushroom called Trevor. Prepare for epic adventures, the odd picnic-break, and plenty of fun-filled frolics!
COOKIE by Konnie Huq
Her best friend in the whole world is moving to Solihull because one of her dads has a new job there. Solihull?! Where even is that?! Cookie begs her parents for a pet to fill the void but they have given her an absolute NO. It would be way too expensive and way way too messy. But Cookie has never been a fan of the word 'no' so she visits the pet shop anyway and sets her heart on the sweetest cutest kitteniest kitten ever: Bluey. But then . . . DISASTER! The most ANNOYING boy she's ever met in her entire nine years goes into the pet shop, buys Bluey and renames her Nigel! And then he joins her year at school! And if that wasn't bad enough, he moves in next door to her. AAAAGGGGHHHHH!
BURN by Patrick Ness
"On a cold Sunday evening in early 1957, Sarah Dewhurst waited with her father in the parking lot of the Chevron Gas Station for the dragon he'd hired to help on the farm."
This dragon, Kazimir, has more to him than meets the eye. Sarah can't help but be curious about him, an animal who supposedly doesn't have a soul but is seemingly intent on keeping her safe from the brutal attentions of Deputy Sheriff Emmett Kelby.
Kazimir knows something she doesn't. He has arrived at the farm because of a prophecy. A prophecy that involves a deadly assassin, a cult of dragon worshippers, two FBI agents – and somehow, Sarah Dewhurst herself.
THE HOUSE OF ONE HUNDRED CLOCKS by A M Howell
Helena and her parrot, Orbit, are swept off to Cambridge when her father is appointed clock-winder to one of the wealthiest men in England. There is only one rule: the clocks must never stop. But Helena discovers the house of one hundred clocks holds many mysteries; a ghostly figure, strange notes and disappearing winding keys Can she work out its secrets before time runs out?
MONTROUS DEVICES by Damien Love
When twelve-year-old Alex receives an old tin robot in the post, the note from his grandfather simply reads: 'This one is special'. But as strange events start occurring around him, it doesn't take Alex long to suspect that the small toy is more than special; it might also be deadly. Just as things are getting out of hand, Alex's grandfather arrives, whisking him away from his otherwise humdrum life and into a world of strange, macabre magic. From Paris to Prague, they flee across snowy Europe in a quest to unravel the riddle of the little robot, and outwit relentless assassins of the human and mechanical kind. How does Alex's grandfather know them? And can Alex safely harness the robot's power, or will it fall into the wrong, wicked hands?
A DOUBLE DOES DETECTIVES MEDICAL MYSTERY THE CURE FOR THE CRIME by Roopa Farooki
Twins Ali and Tulip have grown up with a surgeon mother and so have picked up lots of knowledge of first aid, medicine, and the ways of the hospital-they even know where the secret biscuit drawer in A&E is. When their mother becomes unnaturally sleepy and forgetful, they become suspicious of her new boyfriend. With help-and a watchful eye-from their mysterious wheelchair-bound gran, they set out to crack the mystery.
ORPHANS OF THE TIDE by Struan Murray
When a mysterious boy washes in with the tide, the citizens believe he's the Enemy – the god who drowned the world – come again to cause untold chaos. Only Ellie, a fearless young inventor living in a workshop crammed with curiosities, believes he's innocent. But the Enemy can take possession of any human body and the ruthless Inquisition are determined to destroy it forever. To save the boy, Ellie must prove who he really is – even if that means revealing her own dangerous secret . . .
CRATER LAKE DON'T EVER FALL ASLEEP
Who is the mysterious bloodstained man who stops their coach? Why is no one around when Lance and the rest of Year Six arrive at the brand new Crater Lake activity centre? But this is just the beginning of the school trip from hell; a fight for survival that sees five pupils band together to save their classmates from an alien fate far worse than death. But whatever happens, they must Never. Ever. Fall asleep!
BILLY AND THE MINI MONSTERS GO TO SCHOOL by Zanna Davidson
Billy's Mini Monsters really want to go to school with him. But Billy really doesn't want them to. He s got enough trouble with the school bully, Basil Brown. But perhaps having MONSTERS around will be more helpful than Billy imagines Meet Billy and the Mini Monsters in this laugh-out-loud adventure series for young readers, with colourful illustrations throughout.
New Books
The Elephant Thief
Uncle Shawn and Bill and the Almost Entirely Unplanned Adventure
Attack of the Alien Dung (Pet Defenders)
Shifty McGifty and Slippery Sam; Up Up and Away
The World Famous Cheese Shop Break-In
Joe and the Dragonsauraus (Little Gems)
Museum Mystery Squad and the Case of the Moving Mammoth ( Young Kelpies; Museum Mystery Squad)
National Trust; Ned the Nature Nut's Nutty Nature Jokes and Facts
Inspector Flytrap
The Wilderness War
Jack Beechwhistle; Attack of the Giant Slugs
Spynosaur
Barking for Bagels
Mercy and the Hippo (Early Reader)
Have You Seen Elephant?
The Racehorse Who Wouldn't Gallop
Boas Bad Birthday (Charlie Bass)
FACTS
Prehistoric Actual Size
Alex Sparrow and the Really Big Stink